Norfolk MP Elizabeth Truss looks to Conservative future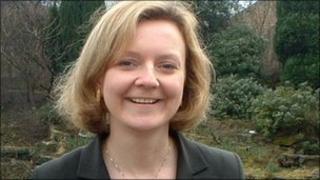 This week the House of Lords finally passed the fixed-term Parliaments Bill.
It means that Thursday 7 May 2015 will be the date of the next general election.
So with three and a half years still to go it may seem strange that some Conservative MPs are already turning their thoughts to what should be in their party's manifesto at the next election.
Chief among them is Elizabeth Truss, the MP for South West Norfolk.
Not to be outdone by neighbouring Conservative, Matt Hancock (West Suffolk), she too has penned a tome.
Thrusting MPs
A series of pieces by her and four other MPs, suggesting what the Tory party of the future should be standing for, is published this weekend.
It joins a growing pile of editions on the way forward by the thrusting new intake.
"This is an ideal time to be thinking about the future of the Conservative party," says Ms Truss.
"We're far enough away from the election to float new ideas and new thinking before it becomes critical.
"When you get close to an election new ideas aren't necessarily welcome."
'Sterile politics'
Ms Truss says she's written the book because she doesn't want the Tory party to lapse into what she calls "sterile politics", just doing what it's doing now, making compromises in coalition and not thinking about the long term future.
She's certainly got the right pedigree.
Elizabeth Truss used to be the deputy director of the think tank Reform.
"We've had to compromise with the Liberal Democrats and there are some issues we do not agree on, like tax and Europe.
"Our intention is to help the Conservative Party develop its identity so we're a popular party who people would like to vote for at the next election."