Drought remains in parts of England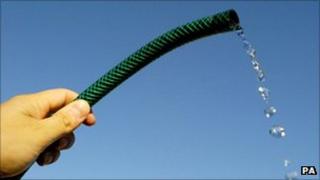 Parts of England are still considered to be experiencing a drought, with low ground water levels despite the wet summer, the Environment Agency said.
Lincolnshire, Cambridgeshire, west Norfolk and parts of Bedfordshire and Northamptonshire remain in drought due to 2011's exceptionally dry spring.
September's rainfall for central and eastern England has so far been about 30% of the long-term monthly average.
Other areas in England and Wales had received between 41% and 65%.
The drought was first declared in June, and if normal autumn conditions prevail, the status could be lifted by November or December, the agency said.
"Despite a wet and cooler-than-average summer, we are still living with the legacy of a dry winter and very dry spring. Our water resources have not recovered, especially ground water," the agency said.
'Miserable holidays'
In East Anglia more than 60 farmers are still unable to abstract water from rivers and streams because of ongoing low water levels.
While households would not be affected by the continuing drought, the agency's head of water resources, Trevor Bishop, said it was mainly to alert water companies and other organisations to the dry conditions.
"It was a very, very dry spring in the [affected] areas and the drought status still exists because underground resources are still in deficit after that dry spring," he said.
"We have had a wet summer, which was miserable for many people's holidays, but most of the rain that fell evaporated or was taken up by growing plants and so made little difference to the ground water."