East's activists told: 'The fightback begins with you'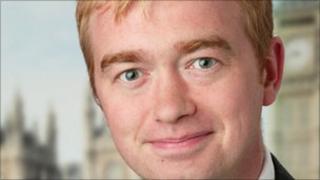 The Liberal Democrat party president has rallied activists from the Eastern region, telling them "our fightback begins with you".
Tim Farron was speaking at the regional party's annual reception held to mark the start of the Lib Dem conference in Birmingham.
He admitted that the last year had been "devastating and tough" but told local delegates "difficult times and adversity tend to build the best campaigners".
Despite the hammering the party received in the local elections, which led to the loss of 114 councillors in the East and cost the flagship authorities of Northampton and North Norfolk, local members are putting on a brave face.
In public, at least, they are still largely supportive of the coalition and believe that being in government will eventually lead to better results at the polls.
One of the main aims of this year's conference is to remind themselves and the public what difference the Lib Dems are making in the coalition.
"We have to remember that we're in government and we're achieving change for people," says Rosalind Wright, a former Norwich City Councillor and wife of the MP for Norwich South.
"We're not interested in the opinion polls - what matters is that we're getting things done out on the streets."
'Fight for it'
Norman Lamb, the MP for North Norfolk says: "I think the mood here is quite remarkable given we've had quite a battering.
"We're a resiliant lot - we didn't go into this game for an easy ride.
"If you're ambitious to get into parliament or your local council, it's an easier route to join the Labour or Conservative parties. You have to fight for it in this party and that attitude sees us through tough times."
Julie Smith, chair of the Eastern region Lib Dems admits that "it hasn't been a fantastic year" but she says that away from the headlines the party has still had its successes in the region.
"This year we got the Mayor of Bedford elected with an increased vote, we held Cambridge and we held our position in Colchester, so it hasn't all been a disaster for us."
She excuses the poor showing elsewhere in the East on the AV referendum which she says galvanised both the Conservatives and many trade unions to get their supporters out to vote.
"We're all here in great numbers and we're still keen to fight for liberal democray which is what we believe in. Where we work really hard, we can still win."
A poll for the website Lib Dem Voice this weekend found that 84% of members still believe in the coalition.
That's why there's unlikely to be too much carping at this year's conference. Despite everything they've been through and despite things not looking great for next year's local elections, they're still prepared to tough it out... for now.