Eden Project plant-air test hailed a success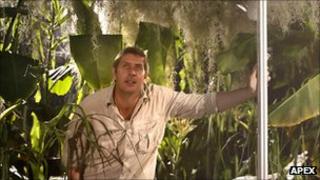 A 48-hour experiment in which a scientist only breathed in oxygen produced by plants has been hailed a success.
Iain Stewart, a geoscience professor at Plymouth University, entered the airtight chamber at the Eden Project in Cornwall on Thursday.
The challenge was filmed for a new BBC Two series, How Plants Made The World.
The aim was to demonstrate the importance of plants to human survival as the "lungs of the planet".
Plants take in carbon dioxide and release oxygen during photosynthesis.
'Blinding headaches'
Prof Stewart said: "At first I thought I'd be gasping for breath, but it wasn't like that, although I did have blinding headaches and was very tired.
"I spent most of my time watering the plants to keep them alive," he added.
The temperature and humidity was kept at an optimum level for the plants.
Prof Stewart added he was keeping the results of the experiment a secret until the programme was broadcast in 2012.
A spokesperson from the Eden Project said it had been a success and the experiment had run to schedule.
Prof Stewart left the chamber on Saturday night.
'Reliance on plants'
He carried out his experiment in a 12 sq m (130 sq ft) see-through plastic container in Eden's Rainforest Biome.
Alistair Griffiths, curator of horticulture at Eden, said between 150 and 200 plants had been grown over the past three months for the experiment.
"It brilliantly illustrates our reliance on plants in an engaging, visual way," he added.
The plants include miscanthus, banana plants, maize and a mix of tropical herbs.