Andrew Duff calls for Federal Europe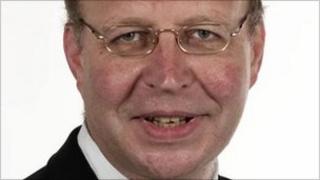 Only a decisive move to European federal government can provide an answer to Europe's ills, maintains Andrew Duff MEP.
Attending the Lib Dem Conference in Birmingham, he produces a freshly printed pamphlet he's written, with the catchy title Federal Union Now.
This is the latest missive from a man steeped in European affairs, and if you fancy a little light reading try his Beyond Maastricht, Reforming the European Union - or how about The Struggle for Europe's Constitution?
So when Mr Duff says Europe's at a critical point you tend to sit up and listen.
"I'm not depressed, I'm worried by events in Europe," he tells me. "Europe is part of the way we are governed, which is a fact that's often forgotten.
"Greece defaulting is not in itself catastrophic but what could be is the contagion that could affect the likes of Italy and Spain."
Gaining currency
Individual national approaches are not the way forward, according to Mr Duff, and a federal government is a must.
He tells me that the idea is gaining currency, with no less than Jose Manuel Barroso. The President of the European Commission has been talking to the Union of European Federalists (led by Mr Duff) even though Mr Barroso couldn't apparently bring himself to utter the words in English and stuck to French.
Mr Barroso has a critical speech at the end of October which Mr Duff is very much hoping will steady the European ship.
If it goes down, he believes, we will go down with it. The only question is how deep.