Bedford counts the cost of spending a penny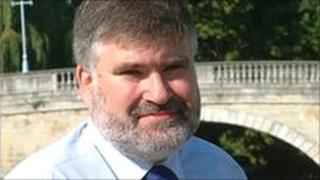 Our region's only elected mayor has been telling Treasury Minister Danny Alexander how it is.
Bedford is the east's sole representative of a system that the government wants to become much more widespread.
In this region we haven't embraced the idea of elected mayors, with the latest poll on the idea rejected in May by the residents of Great Yarmouth.
Nevertheless Dave Hodgson relishes his role of Mayor of Bedford. It is a great success story for the Lib Dems too, who suffered a mauling in the local elections but saw Mr Hodgson increase his majority.
"I've got a rainbow majority," he tells me, and he's happy with that.
"We do all work together and it runs pretty smoothly." Unlike another coalition that his leader Nick Clegg was called on to defend at the Lib Dem Conference.
Like every other council leader, Mr Hodgson is facing a very difficult time facing up to budget cuts and he has been telling the leadership so.
"They might not want to hear it but you can't make these cuts without affecting front-line services, especially as they're front-loaded."
'£9.50 a time'
The residents of Bedford can be assured that no stone has been left unturned in the search to save pennies. And that even extends to spending them.
Apparently, at some of the less well used new-fangled street loos - which are leased - it's costing £9.50 a time.
The residents of Bedford may see fewer of them in future, leaving more money in their pockets but possibly caught short of a convenience.
Mr Hodgson has also attacked the stationery department, slashing the number of "writing implements" - which previously stood at more than 200 - to a mere 24, allowing bulk orders to achieve cost cutting.
They've even installed hand dryers in the toilets, saving a paper towel bill of £18,000. That's presumably if you can find somewhere to go.
I dread to think what might be on the agenda next year.