Nick Clegg predicts Lib Dem bounce back in the East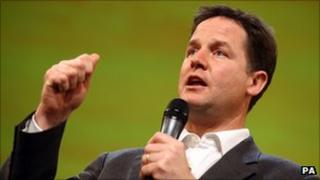 The Liberal Democrats conference may have passed off without incident so far, but not everyone has been thrilled by proceedings.
"It's been bland," one activist tells me. "The Lib Dem conference is supposed to be policy-making. We've just had the liveliest debate so far on the party's wellbeing policy and we actually had a vote. But there's nothing like last year's NHS debate or the one on free schools."
The number of attendees is down too from last year's post-election high.
Unsurprisingly though, Deputy Prime Minister Nick Clegg has been demonstrating his bright side.
He batted away questions on the party's appalling showing in May's local elections: "We can't suffer losses like we did. We took a pounding in the East. I'm not blasé but we will bounce back.
"As long as I've been in politics I've heard people predict the demise of the Lib Dems. We always bounce back."
He also gave a ringing endorsement of his political advisor and North Norfolk MP Norman Lamb, who has been named as the 11th most influential Liberal Democrat.
"Norman's position is he's an incredibly influential figure and a very, very good constituency MP."
So will he make a minister? "Clearly I'd like to see Norman and others become a minister."
Don't hold your breath...