Final TV retune for West Midlands digital switchover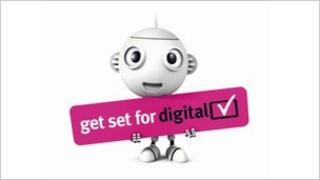 Digital television viewers in parts of the West Midlands will have to retune their sets on Wednesday for the final stage of the digital switchover.
Analogue services were switched off overnight in Fenton in Staffordshire and at Sutton Coldfield.
The main transmitter should already be back with relays in Shropshire due to be back on by lunchtime.
The BBC is running the Switchover Helpscheme to help people to convert their TV to digital.
There are seven transmitters covering the central region.
Transmitters covering parts of Nottingham, Warwickshire, Herefordshire, Shropshire, Gloucestershire, Cheshire and much of the East Midlands have already been switched to digital.
The Sutton Coldfield transmitter serves homes in Birmingham, Worcestershire and Staffordshire, while residents in Stoke-on-Trent use the Fenton service.
To find out more, call the Helpscheme on 0800 40 85 910.