Terence Cuneo Golden Arrow train painting fails to sell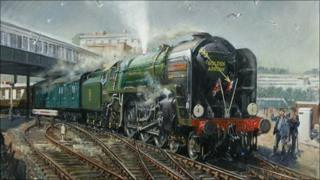 A painting by famed railway artist Terence Cuneo, estimated to be worth £40,000 and £60,000, has failed to sell at auction.
The work, which depicts the Golden Arrow train service between London and Dover, did not make its reserve at Bonhams, central London, on Tuesday.
It was originally introduced as a first class-only service in the 1920s for passengers wishing to travel to Paris.
It was later expanded to other classes and made its final journey in 1972.
Waterloo station statue
Passengers on the Golden Arrow service travelled from London Victoria to Dover, caught a ferry to Calais and then boarded the equivalent French train, Fleche d'Or, to Paris.
A spokesman for Bonhams said: "It failed to sell. Unfortunately it did not make its reserve."
Mr Cuneo, who died in 1996 aged 88, was also well known for his equine and military paintings.
He was the official artist for the Queen's coronation and a statue of him stands at Waterloo station.