Communities to buy schools solar panels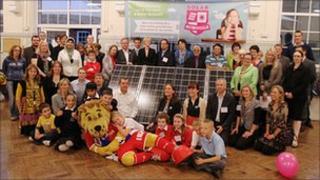 Local communities could donate money towards buying solar panels for nearby schools as part of a pilot scheme.
Four schools in Reading and one each in Cambridge, Norwich and the Isles of Scilly are taking part in the project, aimed to save money on energy bills.
Under the plans, any money saved from using the solar panels for energy is reinvested into the schools.
Reading Borough Council is officially backing the project, while other councils are also supporting it.
The scheme allows schools to buy solar panels outright.
The not-for-profit organisation behind the scheme, 10:10, said every £1 donated could generate up to £3 over the panels' minimum lifespan of 25 years.
National roll-out
In Reading, the schools taking part are Kendrick School, Battle Primary School, EP Collier Primary School and New Christ Church Primary School.
Three more Reading schools are also being lined up.
Newnham Croft Primary School in Cambridge, Framingham Earl High School, on the outskirts of Norwich, and Five Islands School, on the Scillies, are also involved.
If the pilot is successful, a national roll-out is planned for September 2012.
Once fundraising is completed, the schools would need to obtain planning permission, but a 10:10 spokesperson said the schools were selected for the pilot on the likelihood of their applications being accepted.