Nick Clegg admits Liberal Democrats South East failures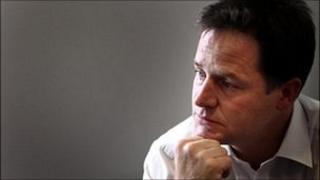 Politicians aren't known for their frankness - especially when it comes to admitting they need to do better.
But when I spoke to Nick Clegg ahead of his keynote Liberal Democrats conference speech, that was his message.
I asked him about why the Liberal Democrats did so badly in the South East at the local elections in May. They now only control one council in the region - Eastbourne - after losing control of Lewes which they held for more than 20 years.
Nick Clegg admitted: "It would be deeply irresponsible, I mean daft of me, as leader of the Liberal Democrats not to acknowledge that the May local elections were really, really bad. We took a huge knock."
But he said they're on the up again. He may feel that. Also, the mood of delegates at the conference has been pretty upbeat.
Delegates may feel in positive mood because their party is actually in government, but that's not been reflected in the polls. They make pretty disheartening reading with the party bumping along at 11%.
The latest figures on the economy also make gloomy reading.
According to the International Monetary Fund the world economy has entered a "dangerous new phase".
Public sector dependency
It's bad news as the UK's growth forecast for 2011 has been revised downwards, from 1.5% to 1.1%,
The South East, often seen as the powerhouse of the UK's economy, is also feeling the pain - especially with job losses at Pfizer.
Mr Clegg acknowledged there are parts of the region which have a dependency on the public sector, such as Hastings.
He said while he recognises specific challenges in parts of the South East, it's still doing better than many other regions.
On the wider economy, Mr Clegg will tell delegates the government will not change course on spending cuts.
The Treasury has denied BBC reports ministers are considering a £5bn rise in spending on infrastructure in a bid to kick-start the UK's stalled economy.
Mr Clegg will stress boosting growth is a top priority.
The message is the coalition is sticking to plan A.
Mr Clegg, whose popularity has been in steady decline since becoming deputy prime minister, will be hoping plan A does work. Not just for the future of the economy and the coalition - but for him.