Does Tim Farron seek Lib Dem leadership after divorce?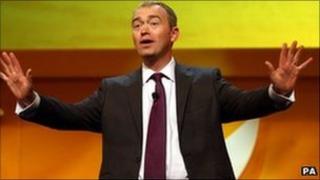 It's been a few years since I last missed a Liberal Democrat conference, so it has been slightly strange watching it from afar.
But then the last two conferences have been odd for the party members too.
Being in government takes some getting used to.
But if last year's gathering was about adjustment to that fact, this year's was the reality check.
Looking ahead
In the last 12 months the party has had to endure the vitriol caused by the tuition fee U-turn and a battering at the local elections.
Conference 2011 though also seemed to be about looking ahead - trying to work out what kind of party will eventually emerge in 2015.
There are some who believe the party may need to shelter in another coalition and continue their partnership with the Conservatives (if they have the opportunity).
But in the North East and Cumbria that group will certainly be in the minority.
Instead many will have sympathised with the view of Westmorland and Lonsdale MP Tim Farron.
He told the conference divorce was inevitable in the party's marriage of convenience with the Conservatives.
It helped the Cumbrian MP hit the headlines, and there was certainly more attention than usual on him this year.
For one, he is now the party president. But he is also seen as a potential leadership contender.
Tough decision
Many (including perhaps his wife) are not expecting Nick Clegg to have much of a long term future as leader. (He begs to differ of course.)
In addition, Chris Huhne's speeding ticket woes aren't helping his ambitions.
And Tim Farron's speech was unapologetically aimed at wooing the Lib Dems who are the most uneasy about coalition.
Hardly surprising, because that is also the Cumbrian MP's inclination.
Yes, he is proud of his party for taking the tough decision, and for fighting its corner.
He also went out of his way to heap praise on the Deputy Prime Minister.
But make no mistake, he sees this coalition as a one-term wonder.
Political awakening
In his speech, he said: "Going into coalition was absolutely the right thing for the country, but costly for the party.
"I'm in no doubt that being in coalition with the Tories has tainted us, our identity is blurred, many who support us are confused.
"They say: 'We thought you were against the Tories, why are you shacked up with them now?'"
He also talked about his own political awakening - watching the classic TV drama about homelessness Cathy Come Home.
And he made much of his roots growing up in a north affected by 1980s unemployment - not dissimilar perhaps from his Labour contemporaries.
He also talked about one night he spent with me - don't panic, there's no scandal.
He spoke about having to be live on our local election programme last May as his party's losses began to mount up.
He said: "Politics is full of clichés. Perhaps the worst is that bit where you're on telly having to pretend everything's gone swimmingly on a bad election night.
"I had that job, and I have to confess that I didn't stick to the script. I didn't pretend it was alright really. 'Cos it wasn't."
Plenty of pitfalls
I have no doubt that Tim Farron is a potential future leader of the party, even if he has dampened speculation.
But there are plenty of pitfalls ahead for him.
It is always dangerous to be talked about as a potential leader. In this 24-hour media culture, you can soon lose your novelty value.
He will also face a fight to hold onto his own seat if the proposed boundary changes do pit him against Conservative MP Rory Stewart in a new Kendal and Penrith constituency.
But I know he would insist his focus is not on any leadership ambition. Instead, it will be on making sure his party emerges from the coalition as an electoral force that is still worth leading.
The Politics Show will be seeing how many local Lib Dems agree with his view of the coalition at 11:00 on BBC1 on 25 September.