Charles Clarke will not stand at next general election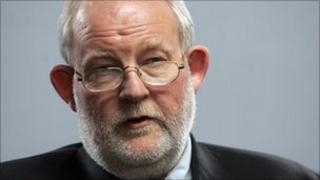 Former home secretary Charles Clarke has formally announced that he is leaving front-line politics.
It confirms what he told us last year that he won't be standing at the next general election. He says it's time to pass on the baton.
At last year's Labour conference he said he probably would not stand at the next general election because he would be 65 by 2015, which he felt made him too old.
Clarke told the Eastern Daily Press: "It is now time to pass the Labour baton to another candidate. I am confident that Labour will regain Norwich South at the general election."
Selection date
Norwich South is about to select its candidate for the next election so the decision needed to be made.
With the Fixed-term Parliaments Act making 7 May 2015 almost certain as the date of the next general election, Mr Clarke has decided that it is time to go.
He was one of the big beasts of the political jungle.
As chief of staff to Neil Kinnock he was one of the co-founders of New Labour. Under Tony Blair he rose to become party chairman, then education secretary and finally home secretary.
It's a career that's had its fair share of controversies. He was the man who introduced tuition fees and there was the row over foreign prisoners which ultimately led to his dismissal.
He was tipped as a future Labour leader on several occasions but didn't manage to mobilise sufficient support within the party.
Gordon Brown
An outspoken critic of Gordon Brown, Mr Clarke had the courage to call openly for Gordon to go, while most other senior ministers stayed quiet.
He always claimed there was lot of opposition within the cabinet to Gordon Brown, claims which his colleagues denied. Yet the recent spate of memoirs has proved this to be true.
Charles Clarke's departure from the political stage will be a loss to a Labour Party which has doubts about its direction and its leader. There are very few figures who are so experienced and well-known to the public in the modern-day Labour Party.
Its task of rebuilding has just become a little harder.