Green belt 'at risk' in councils' rush to build homes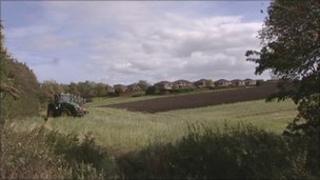 It seems barely a day goes by without another council announcing plans to build hundreds or even thousands of homes.
This week has seen Newcastle and Gateshead announce plans for 36,000 new houses, Scarborough plans 1,000 new homes in the town, and the Lake District National Park authority wants to see 900 homes built in its part of Cumbria.
County Durham wants to build 28,000 new homes, Harrogate 8,000 and Carlisle 4,500.
Good news if you want to get on the housing ladder, bad news if you don't like the idea of a new estate springing up near you.
Housing targets
But all this is a product of government changes to the planning system. Under Labour, house building targets were set region-by-region through a plan drawn up by local development agencies.
Those Regional Spatial Strategies, as they were snappily known, have been abolished by Communities Secretary Eric Pickles.
That means individual councils must now decide how many homes they want to try and build in their areas.
They can also take advantage of relaxed planning rules, which will have a presumption in favour of "sustainable development".
The government says that means less red tape, and crucially potentially more homes. It rightly points out that Labour's record on house building was not a great one.
But might this also lead to a free-for-all race between councils to develop as many homes as possible?
More homes
There is certainly a temptation. At a crude level, more homes - assuming you can fill them - means more council tax payers.
But it is also about the economic vitality of an area
Newcastle and Gateshead councils believe their plan to build 36,000 extra homes by 2030 is vital to secure the prosperity of Tyneside.
They want to see the population of the area grow to 500,000, and to do that they need more houses.
And a good supply of high quality housing is also seen as vital in attracting and retaining businesses.
But there is a price to pay.
To meet the target, the councils say they need to build around a third of the homes on the green belt.
Housing balance
There are plans for a new 4,000-home estate on undeveloped land to the west of Newcastle.
And many of the villages in the green belt will also have to take hundreds of new homes.
The councils believe their plan does offer a balance between vital development and protecting the environment.
They hope the homes - 60% of which will have three bedrooms or more - will help local people.
Paul Dowling, from Gateshead Council, said: "Existing sites and brown field sites are not enough. We need to provide quality and choice across Gateshead and Newcastle.
"Building on part of the green belt allows us to give a different offer for communities in terms of size and quality of accommodation and the surrounding environment."
But some disagree.
Alternatives needed
Sandy Irvine, Chairman of Newcastle Green Party, thinks the council needs to find a better solution.
He said: "The alternatives have got to be found within the city; bringing empty homes back into use, perhaps reclaiming some of the terraces lost to students by putting them in halls of residence.
"That should be the strategy rather than gobbling up more of the green belt as it's a process that will feed itself.
"In a year or two they'll be back for another bite, and we will just end up with continuous urban sprawl."
It's also possible some councils may be setting over-ambitious targets in order to compete with their neighbours for population.
That could lead to developers cherry picking the green belt sites, with the inner city locations left high and dry.
And communities could be divided. The Politics Show has been to Ryton near Gateshead and found both support and concern about plans to put 500 new homes in the village.
You can hear what our politicians think in the Politics Show at 11am on BBC One on Sunday, 25 November.