Cornish coast dolphin 'in decline' says Exeter student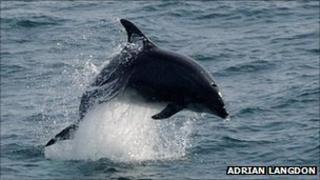 Bottlenose dolphins could be in decline off Cornwall's coast, a study has suggested.
University of Exeter student, Stephen Pikesley, made his suggestion from data supplied by Cornwall Wildlife Trust.
It appears, from the cetacean species recorded, that bottlenose dolphins were seen 66% of the time in 1991, and 27% in 2008.
Experts from the trust said the reason was unknown and they feared they could be at risk if the trend continued.
Pod size 'reduced'
Mr Pikesley said: "When we analysed the data it was clear that there were significant decreases in the number of bottlenose dolphin sightings between 1991 and 2008."
The average size of a pod, or group, of dolphins had also reduced from 18 in 1991, to six in 2008, he added.
Marine conservation manager for Cornwall Wildlife Trust, Ruth Williams, said: "We see young dolphins in the pods, but the problem is that group sizes aren't getting any bigger.
"Individuals could be going to other groups, or they could be falling victim to pollution, we just don't know at the moment.
"The analysis that Stephen has carried out on the data collected by members of the public and our volunteers has provided a great insight," she added.
Mr Pikesley's research paper is expected to be published in the Journal of the Marine Biological Association of the United Kingdom.