Vet laboratory closures confirmed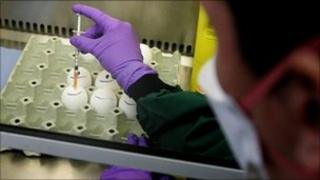 Laboratory work at eight veterinary centres will be phased out over the next two years, it has been confirmed.
The Animal Health and Veterinary Laboratories Agency (AHVLA) said the change could save it about £2.4m a year.
The Prospect union said the move confirmed its "worst fears".
Centres in Thirsk, Truro, Langford, Aberystwyth, Carmarthen, Luddington, Preston and Winchester are affected by the plan.
Veterinary science laboratories are responsible for animal health testing, which includes the early diagnosis of diseases such as bovine TB and swine fever.
Catherine Brown, chief executive of the AHVLA, said: "Reducing the number of sites undertaking laboratory testing will enable us to deliver services of the same high standard at a significantly lower cost."
She added it would make the service more "sustainable" for the future.
The Prospect union fears 90 jobs could be lost in the move.
Redeploy staff
Geraldine O'Connell, Prospect national secretary, said: "This announcement bears out our worst fears for the future of the laboratories, and we remain concerned about the long-term impact on the future of the laboratory sites themselves."
AHVLA added it would seek opportunities to redeploy staff affected by the changes and would seek to minimise the need for any compulsory redundancies.
Laboratory services in Thirsk, Truro and Langford will be phased out by March 2012. The remaining centres affected will cease to do the work by March 2013.
Laboratory services at Bury St Edmunds, Lasswade, Newcastle, Penrith, Shrewsbury, Starcross, Sutton Bonington and Weybridge are being retained.