West Mercia Police stop-and-account recording 'to stop'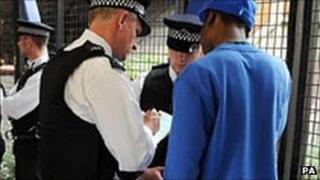 West Mercia Police is to cease keeping records of everyone it stops and questions to help save money and reduce officers' paper work.
The campaign group StopWatch, which aims to hold police to account, said records allowed it to measure how stop-and-account powers were being used.
The force said recording was unpopular and no longer a government requirement.
A senior officer said its "disproportionate use" was a critical issue and pledged to continue consulting ethnic minorities.
The stated aim of stop-and-search is to prevent and detect crimes by allowing police to stop someone and search them.
But stop-and-account allows police to stop someone and ask them to account for their behaviour, presence, actions and possession of any items, but it does not authorise police to search them.
'Poor time use'
In a statement the force said: "Consultation of the public, and in particular West Mercia's black and minority ethnic community members, found the [stop-and-account] form was far too long and a poor use of time for both the public and police officers.
"As such, West Mercia Police intends to stop recording stop-and-account encounters in the near future.
"West Mercia Police considers disproportionate use of stop-and-account as a critical and sensitive issue. We have been working hard for a number of years to tackle this issue and we are making progress."
Ch Insp Jim Baker said rather than being bureaucratically accountable, the force aimed to be democratically accountable and would continue to consult minority ethnic communities.
He added: "If they, or other community members, voice any concerns about the use of stop-and-account in the future, we have the ability to re-instate the recording of these encounters."
StopWatch has called for the force to reconsider its decision and said that without official records, it would be hard to measure and identify potential cases of police harassment by officers who repeatedly stopped the same person or group of people.
Dr Michael Shiner, from the London School of Economics (LSE) and StopWatch, said Ministry of Justice records showed that African-Caribbean people living in the West Mercia, Avon and Somerset and Warwickshire Police force areas were up to three times more likely to face stop-and-account encounters than Caucasian people.
Race concerns
He said the reason race was recorded on stop-and-account forms was in direct response to specific concerns about the "over-policing of black communities," nationwide which he said had translated into urban disorder in the Brixton riots.
He said the The Stephen Lawrence Inquiry found that stop-and-account was one of the most complained about policing issues among black and ethnic minority communities nationally.
StopWatch said without recording the results of the stops, it would make it harder to measure the effectiveness of stop-and-account as a policing tool.
It said abandoning the Recording of stop and account also left officers more vulnerable to malicious complaints by people who claimed injury or property damage as a result of being stopped by police.