Police recover stolen stately home antiques worth £5m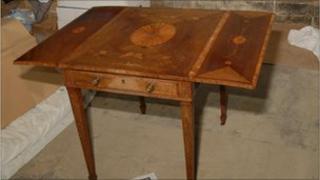 Millions of pounds worth of stolen antiques, which have significant cultural and historic value, have been recovered in a raid by police.
They are believed to be items stolen from Newby Hall and Sion Hill in North Yorkshire and Firle Place in Sussex.
The antiques include a rare Chippendale table, which was made specially for Newby Hall in 1775 and is said to be of global importance.
Two men, aged 68 and 44, have been arrested.
Police said the 68-year-old was from Tankersley, South Yorkshire, and the 44-year-old from Middleton, Leeds.
Both men are being questioned while the antiques continue to be formally identified by experts.
The raid comes after a year-long investigation by the Yorkshire and Humber Regional Organised Crime Unit.
Police said the 14 antiques were found at lock-ups at two residential premises in South and West Yorkshire on 22 September and were worth a total of £5m.
Also recovered was a pair of Louis XVI ormolu and Sevres bleu vases, with an insurance value of £950,000.
These were taken from Firle Place in July 2009 along with a Meissen statue, The Indiscreet Harlequin, and a rare Sevres Hollandois Nouveau vase of 1761, each valued at £180,000 each.
Another of the recovered antiques include an embellished bracket clock made by Daniel Delander of London in around 1710.
It is believed to be the same clock stolen from Sion Hill in Northallerton in February 2009.
Det Supt Steve Waite said: "This is an absolutely fantastic case and a great result for both the officers involved and the stately homes that have been affected by these thefts.
"We are so pleased and proud to have recovered these high value antiques which have been described as true pieces of British heritage."