Traffic drops after Tamar Bridge resurfacing work starts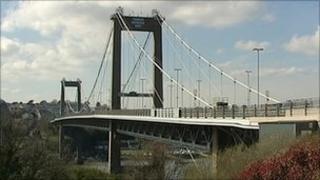 The number of drivers using the Tamar Bridge between Devon and Cornwall has fallen by about 10% since resurfacing work began a week ago.
About 20,000 people use the bridge between Saltash and Plymouth every day on average, but there had been a drop of about 2,000, bridge bosses said.
BBC Travel Devon and Cornwall said other routes were also busier, including the Torpoint ferry.
The work, between 07:00 and 23:00, is expected to take another four weeks.
The resurfacing is being carried out seven days a week.
Bridge bosses said the process was specialised and recently completed areas could not be driven on straight away.
'Complicated job'
David List, general manager of the bridge and Torpoint ferry, said: "We've got quite a complicated job to do here.
"It involves taking off the asphalt and getting down to the bare steel, which is 40mm [1.6in] underneath.
"We then apply four layers of water-proofing and then we bond the asphalt back on to that water-proofing.
"It's different to taking off the surface of the high street and putting down some black top overnight."
Mr List said different types of vehicles caused different amounts of wear.
He said: "It depends to some extent on dynamics - vehicle speeds and depths of asphalt.
"But it could be that one 40-tonne truck is doing 10,000 times the damage of a private car."
Mr List said drivers had experienced delays of up to 45 minutes last Tuesday and Wednesday.
He said: "As people become used to the fact that there is a reduced resource, they change their behaviour.
"To be fair, we also learned something about our traffic management."
Mr List said the work was happening during the day so people living nearby were not disturbed in the evenings.