Alzheimer's MP's wife makes appeal at Labour conference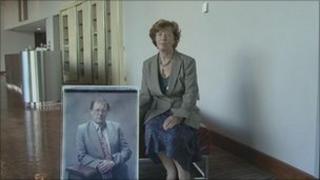 For Pat Boyes, party conference time was when she said goodbye to husband Roland for a week.
He was a Labour stalwart, first as an MEP for Durham, and then later as MP for Houghton and Washington in Wearside.
Pat says Roland Boyes loved the conference season, revelling in meeting old friends and making new ones, immersing himself in the debates - the very definition of a political animal.
But despite being a fellow Labour party member, Pat always preferred to stay at home.
Personal tragedy
So it was an odd experience for her, turning up at this year's Labour gathering. But her appearance has been caused by her husband's absence.
Roland Boyes died in 2006. He had Alzheimer's.
He had been diagnosed in 1995, when he was just 58.
It was a diagnosis that ended his political career, and robbed him of a chance of serving in Tony Blair's government.
But this was also a personal tragedy for Pat Boyes.
Roland fought the disease as much as he could, but inevitably his wife saw his formidable character disintegrate as the disease progressed.
He did though manage to raise £20,000 and lead a campaign for research into Alzheimer's in the early years.
Pat said: "Roland used to be such a great man. He could have taken on the world. It was so sad to see him decline through Alzheimer's.
"I told him he was too ill to campaign, but he replied, 'We've got to do something before I can't write anymore', and set about writing letters to everyone he knew to raise money.
"When he couldn't write anymore, I took over."
And she hasn't stopped since.
Powerful advocate
She came to Liverpool to explain to a fringe meeting of delegates what it's like to watch someone you love succumb to the disease.
And her mission is to ensure that as much money as possible is dedicated to research into the condition.
She brings a large picture of Roland with her to personalise him to any audience she talks to.
She said: "If Roland could see me, he would be asking me 'what on earth are you doing here?' But it is important I continue to fight to raise awareness and raise money."
She has the backing of charity Alzheimer's Research who invited her to Liverpool to make as big an impact as possible. And you only have to spend a few minutes talking to her to know she is a powerful advocate.
But was Pat tempted to take in more of the conference, perhaps stay for Ed Miliband's speech, and find out what Roland loved about it?
Not at all. When I left her, she was planning to use the rest of her time here to go shopping before heading back to her home in Peterlee.
I have a feeling though that her husband would have been proud of her.