Northern Hub rail plans put to government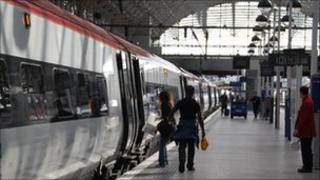 Plans to transform the rail network in the north of England will be put to government this week.
The £560m Northern Hub scheme would mean four fast trains every hour between Liverpool and Manchester and six between Manchester and Leeds.
Network Rail said it was part of a nationwide strategy to improve the railways, to be published on Thursday.
The decision on funding will be made next summer and, if successful, work could begin in April 2014.
Plans for the Northern Hub were put together by Network Rail after it carried out a study which showed it needed more - and faster - train services.
It also found stations needed to expand to cope with more passengers.
If it gets the go ahead, it could mean faster journey times for passengers in Liverpool, Manchester, Leeds, Sheffield and Newcastle.
Proposals include linking Manchester Piccadilly and Victoria stations with a new section of track, at a cost of about £85m.
There are also plans to refurbish Manchester Victoria station, turning it into a major interchange.
Transport secretary Philip Hammond is set to make a decision on the proposals next July.