'Mr Asbo' swan returns to Cambridge after arthritis treatment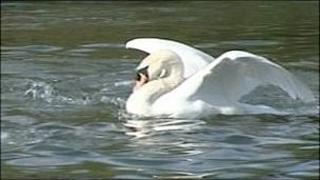 An aggressive swan whose behaviour earned him the nickname "Mr Asbo" has returned to Cambridge after being treated in Norfolk for arthritis.
The swan was taken from the River Cam to the RSPCA Norfolk Wildlife Hospital in August, where vets feared they might have to amputate an arthritic toe.
However, he responded to anti-inflammatory drugs and antibiotics.
Centre manager Alison Charles said: "We wouldn't release him if we didn't think he was ready to return to the river."
The swan earned his reputation after reportedly attacking boaters on the Cambridge river.
'Perfectly lovely'
Despite calls for him to be removed for the safety of rowers, Mr Asbo remained with his cygnets and mate.
Staff at the RSPCA hospital said he had not lived up to his nickname and described him as "perfectly lovely" during his treatment and convalescence, which took more than a month.
Mrs Charles said: "It was quite a long time, but there was such a lot of infection, and at the beginning he didn't respond to the antibiotics.
"We persevered as long-term treatment with the medication - and plenty of TLC - is the conservative option that we prefer."
The swan has now been released at a site close to his former nest on the River Cam.
RSPCA staff hope that he will return to his mate and cygnets.