Cavendish praises London 2012 Olympic road race route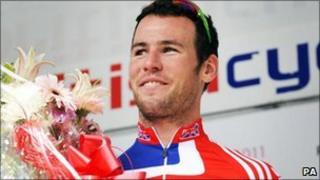 Multiple Tour de France stage winner Mark Cavendish has praised the Surrey section of the London 2012 Olympics road race event.
The London-Surrey Cycle Classic on 14 August saw 148 riders race from The Mall in London to Box Hill and back.
Cavendish, who won the 87-mile (140km) event, said the Surrey part was a "perfect little circuit".
Thousands of people lined the route across London and Surrey to cheer the competitors.
'Great viewing'
Cavendish added: "It's really, really good. It's the perfect little circuit for a race - it's got everything.
"It's got small roads, big roads, it was nice to go out there. I was lucky I won the test event.
"Now I'm looking forward to the Olympics and I think it [the Box Hill loop] will make great viewing for the Olympics next year."
Denise Saliagopoulos of Surrey County Council, who met Mark during the Tour of Britain race, said: "Mark was clearly excited at the prospect of racing at Box Hill on the opening weekend of the 2012 Olympic Games.
"Mark has a good chance of winning Britain's first gold of the Games and I'm sure he'll be cheered on by Surrey residents all along the race route."
The test race started at The Mall before heading through west London and into Richmond Park.
The cyclists then passed Hampton Court Palace, Walton-on-Thames, Guildford and Dorking before two circuits of Box Hill in Surrey, which is a Site of Special Scientific Interest (SSSI).
This year's route is shorter than the one the men will tackle at the London Olympics.
In 2012, seven more large loops will extend the men's race to a distance of 155 miles (250km), while the women's race distance will remain 87 miles (140km).