Police 2012 cycling route pamphlets criticised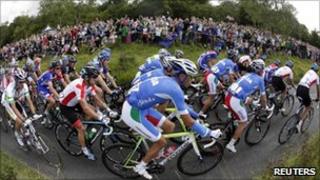 Police in Surrey have been criticised for targeting cyclists passing through a beauty spot that forms part of the 2012 Olympics cycling road race course.
Leaflets handed out around Box Hill warned that "careless and inconsiderate riding" could result in a £1,000 fine.
Cyclists writing on the website of Cycling Weekly claimed the move "smacked almost of harassment".
Police said they were responding to concerns that cyclists in groups or two abreast were causing cars to slow down.
The leaflet handed out by Surrey Police reads: "Careless & inconsiderate riding: If a person rides a cycle, on a road, without due care and attention, or without reasonable consideration for other persons using the road, is guilty of an offence (sic). £1,000 fine."
Insp Terri Poulton, from Surrey Police, left a comment on the Cycling Weekly site apologising for the "blunt, inappropriate" wording of the leaflet.
She added in a statement: "We have seen a significant increase in the numbers of on and off-road cyclists, motorists, walkers and horse-riders, and this has caused a number of issues with these competing groups and indeed with local residents.
"In the light of a number of incidents in and around Box Hill we are concerned for the safety of some road users, which include cyclists, who might be putting themselves at risk unnecessarily.
"We are working closely with local cycling groups, and officers have been providing them with up-to-date cycle safety advice plus reminding cyclists not to ride more than two abreast.
"In addition, over the next few months, in partnership with Surrey County Council, we intend to run a campaign with both cyclists and motorists to encourage these two groups to be considerate of one another when out on the county's roads."
Box Hill was the focus of attention in August when the London-Surrey Cycle Classic took place as a test event for the 2012 Olympic Games.
Thousands of spectators lined the route as cyclists rode from The Mall in central London to Box Hill and back.