Ten-seat target for Labour revival in the East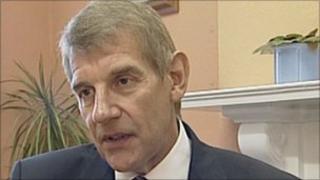 Labour has a target of 10 seats in the East which it needs to win if it is to have a hope of forming a government. That goal is one identified by Bob Blizzard.
The former Waveney MP lost his seat last year, just, and will know in a few weeks' time if he has been selected to fight the seat again.
He wrote a report analysing why 10 red spots were erased from the East's political map, and described Labour's performance at the last election as being a "near-death experience".
He told me he does claim some credit for Shadow Chancellor Ed Balls' role leading Labour's election campaigns in Norfolk.
"We do need more recognition for the needs of the East and not simply where we can win," he said.
"We need activity all over the region with vibrant local parties in seats that people want to fight.
"Having a sub region for the east and west of the area makes sense too. It's hard for our Labour MPs in Luton to really know what is necessary in Lowestoft."
'Consumerist choices'
And what Lowestoft really, really wants is wind power, in Mr Blizzard's opinion. He's concerned that the demise of the East of England Development Agency, with its expertise and its money, could have stalled green energy expansion there.
He is convinced Labour can come back in the East but knows it will take a lot of hard work.
"Voters who put in the Tories last time still want to give them a chance, but two or three years down the line they might want to try something new."
He also thinks people's voting patterns are changing. "There will always be some dyed-in-the-wool supporters but these days many people will make their choices in a more consumerist way.
"They will look at what's on offer and make up their minds later on.
"The East needs to figure more highly in the leadership's plans. We need to be part of roadshows, and leaders need to come here."
The question is whether the leadership are listening.