Union's anger at BAE job losses in Bristol and Somerset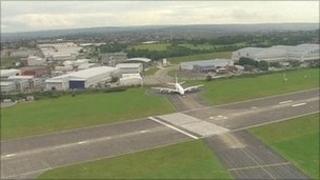 Union leaders say proposals to cut 206 jobs from BAE Systems in Bristol and Somerset are a "devastating blow" for the defence manufacturing industry.
The aerospace company wants to lose 74 jobs from 620 at Filton, near Bristol, and 132 from 290 at its Yeovil site.
In a statement, the defence company said the cuts were needed to maintain competitiveness through affordable products and services.
The losses are part of 3,000 planned for the UK.
The biggest job cuts will be at sites in Lancashire and Yorkshire.
'Difficult time'
Most of the cuts will be made in BAE's military aircraft division, which is being affected by a slowdown in orders for the Eurofighter Typhoon fighter aircraft.
Ian Waddell, a union officer from Unite, said rumours of the job losses had been circulating since the weekend.
"It's been a really difficult time for BAE workers... going into work knowing job losses are about to be announced but not knowing where the axe is going to fall.
"It's been a really abysmal way of handling what is always bad news.
"We've just dealt with a programme of 2,500 job losses [as a result of the government's defence review] and we managed to avoid compulsory redundancies by redeploying people.
"Having just completed 2,500 it's going to be difficult to find slots for people to be redeployed into.
"These are highly-skilled jobs and really valuable to the UK economy and manufacturing.
'Real shock'
"It's a real devastating blow for the industry," he added.
The Liberal Democrat MP for Yeovil, David Laws, said the proposals were "bad news" and that his thoughts were with all of the staff and their families.
"This is unsettling for all the staff at this business, and is a real shock given the numbers involved.
"This is a very important Yeovil business, with exactly the type of jobs we want to attract and retain in our area - jobs with high skills and good pay.
"I am today writing to Ian King, the chief executive of BAE Systems, asking for a meeting with him to discuss the scale of job losses in Yeovil, and what can be done to reduce these numbers.
"Losing one third of the workforce at this site would be very damaging, and I want to find out what we can do to win new business and save some of these very valuable jobs," he added.
BAE Systems currently employs just under 100,000 staff globally, of which 40,000 are in the UK.