Fears rapist John Dillon 'kept offending' on run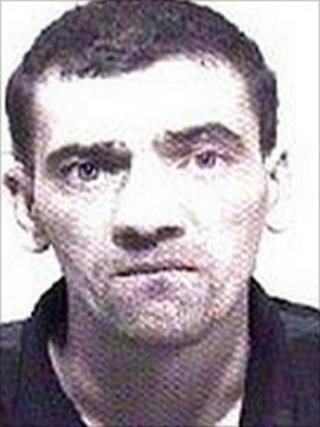 Detectives in Northumbria who caught Tyneside double rapist John Renner Dillon fear he may have committed other crimes while he was at large for five years.
The 45-year-old fled to the Irish Republic after skipping bail for raping a 16-year-old girl in 2002.
He took the false name Jeffrey Woodhouse and lay low, making a living as a cash-in-hand floor layer.
Police issued an appeal for help to catch him on the BBC's Crimewatch programme in May 2006.
But it was not until more than a year-and-a-half later, on 3 December 2007, that Dillon was arrested by Gardai officers.
Acting on a tip-off they cornered him in the Harold's Cross Road area of Dublin.
By this time, advances in DNA techniques meant police had enough evidence to prove Dillon had raped his 65-year-old grandmother in 1982, when he was 16.
He had been found not guilty at the time because of a lack of forensic evidence, but samples were kept.
His elderly victim died in 1992, aged 75, without seeing justice done.
Det Supt Steve Wade, of Northumbria Police's public protection unit, said: "What we don't know is whether he has committed other rapes that have never been reported to police.
"He is a serial rapist, and by the nature of that beast they don't stop."
When confronted in Dublin, the fugitive denied being Dillon and told officers he was Jeff Woodhouse.
But after being shown a copy of an arrest warrant Dillon said: "Who shopped me?"
Det Insp Nicola Musgrove, of Northumbria Police's major investigation team, flew to Dublin with a small team of detectives and on 24 January 2008, she brought him back to the UK by ferry. He was kept in an on board cell.
She said: "There wasn't a lot of conversation between us, but he came across as a really evil, despicable man to be capable of committing these horrific crimes on vulnerable women.
"The circumstances of the first attack were that the victim was alone at home, he entered the house and raped her in her bed.
"One victim was 65 and the other was 15, so we had a very clear picture of what he was capable of and we believed he was a threat to the public.
"His first victim gave evidence during the trial and it is a real shame she went to her deathbed thinking no-one believed her."
Double jeopardy
After his return to the UK in 2008, Dillon pleaded guilty to rape of the 15-year-old girl and was jailed for nine years.
But the police and the Crown Prosecution Service (CPS) still had three years of legal wrangles ahead of them and trips back and forth to the Dublin High Court to get justice for his grandmother.
Previously under the 800-year-old defence known as double jeopardy, anyone acquitted by a jury could not be retried for the same offence.
Dillon had been acquitted of his grandmother's rape in 1983.
But changes to the law came into effect in 2005 allowing retrials where there was substantial new evidence.
Although officers believed they had enough evidence to prove Dillon raped the 65-year-old he could not yet be recharged.
He was already in a UK jail, but the authorities had to apply to the Dublin High Court for retrospective permission to extradite him over the 30-year-old rape.
His 1983 acquittal also had to be quashed.
Northumbria Police had started looking into the 1982 crime in 2004, as part of Operation Phoenix.
Mouth swab
It was a cold case review working with the Forensic Science Service.
By this time there were three separate DNA samples from Dillon in storage - one from the 1982 rape, a mouth swab from a 2001 arrest for obstructing a police officer and evidence from the 2002 teenager rape.
The analysis was painstaking and by July 2006, scientists were confident Dillon was a double rapist after getting positive blood and semen matches.
On 30 June 2011, the 1982 acquittal was quashed and Dillon was charged again with raping his grandmother.
On 10 August, he pleaded guilty to rape at Newcastle Crown Court, almost three decades after the crime.
Mr Wade said: "The key to unlocking this case was the DNA samples that had been taken 30 years earlier - some were so old they were mounted on glass slides.
"Thousands of DNA samples a day are checked and it can be a waiting game.
"An unidentified swab can be on the database for years, then we suddenly get a hit when someone is arrested for a trivial matter, say for example, theft of a chocolate bar or being drunk at a football match, and they can be linked to an historic crime.
"Nothing gives us greater satisfaction than getting the call to say a DNA match has been found for an historic rape and telling the victim."
Ms Musgrove added: "We want to show victims the lengths we will go to to bring these people to justice.
"There were half a dozen officers who were prepared to come to court again in this case to give evidence even though they have retired.
"Dillon was dangerous at 16 and he continues to be dangerous. There is no hiding place for rapists."