Gavin Shuker 'trying to stay ahead of the curve'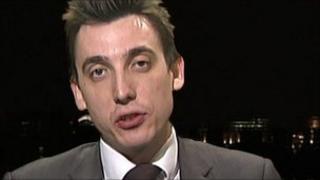 Tribute was paid from the podium at the Labour Party Conference to Shadow Defra Minister Gavin Shuker by his boss Mary Creagh for his hard work this year.
The Shadow Secretary for Environment, Food and Rural Affairs Mrs Creagh was arguing for the protection of the wages of people who work on the land.
The Conservatives have pledged to scrap the Agricultural Wages Board - and that's not their only target, according to Mr Shuker. The Luton South MP is very concerned about council cuts, losing school building funding and the economy.
"The story of the economy, in a deep nosedive at the moment, is moving precisely in the direction we identified," he tells me.
"We said that this level of cuts would stall the economy and it has - what we need is growth.
"If the economy stays as it is, we will win the political argument. I think the next election is not a foregone conclusion at all. It's very open."
No picnic
But that's a long way off and for the moment Mr Shuker is enjoying life even though it's in opposition.
It's been a year since he was first elected and working in a shadow team is, he says, no picnic.
"Just because you're in opposition doesn't mean there's nothing to do. You need to know everything about government proposals and put forward new ideas of your own, as well as trying to be ahead of the curve.
"Defra has actually had one of best success rates this year what with the U-turns over forests and circus animals."
He decided not to change his lifestyle when elected and is still driving a Vauxhall Vectra, from the Luton plant where his father and grandfather worked - and the car had clearly seen better days.
He bemoans the fact that: "The driver's door doesn't actually open any more, so when I arrive for engagements I have to climb over the passenger's side while people are trying to say hello."
Perhaps it really is time for a new one.