Labour MEP Richard Howitt backs Dale Farm travellers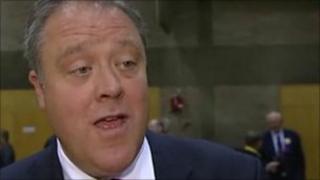 Richard Howitt MEP has stepped in on the side of the travellers facing eviction from the site at Dale Farm in Essex.
Although his leader, Ed Milband, has declared otherwise, Labour's MEP for the East believes the residents of Dale Farm should not be evicted.
"There's got to be a better way," he tells me. "Perhaps another site could have been found.
"Some green spaces in Basildon are going in order to fund the swimming pool. Perhaps somewhere could have been identified for a legal site.
"It's not a crime to want to be in that area and want to stay together."
He does not accept the argument that Basildon already has more legal pitches than almost any other council in the country.
"You can't just say we've got enough of one particular group of people - that's just prejudice," he argues. "If they're moved on where are they going to go?"
'Muddling through'
He's more equivocal about the future of Europe.
"I don't know and I speak to people and they don't know exactly what's going to happen."
He thinks there are three options open for Europe. The first is for a two-track Europe with Eurozone countries more integrated and a second tier, not in the euro, with less of a say.
"I have never backed that. I don't like that idea of a two-track Europe. Alternatively, the whole of the European project could break apart completely.
"Or we could carry on muddling through, the way we are doing."
He's in good company, with the piecemeal approach seeming to have the most backers - but how long they can keep firefighting before the whole lot goes up in flames is anyone's guess.