That's what happens when you let the voters in, Ed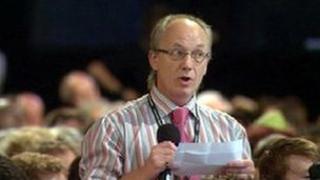 In his striped shirt and glasses Richard Lohman looked like the sort of person who might ask an intelligent question.
He had travelled up from Oxford for the chance to ask the Labour leader a question at the open session at this year's conference.
But Ed Miliband must rather regret calling him to speak.
When Richard felt like his point about pensions wasn't being properly answered he decided he had heard enough.
He cut Ed Miliband off in mid flow and stormed out, leaving red-shirted party stewards trailing in his wake.
"That's the first time that's ever happened," the embarrassed leader told the hall.
Lapsed member
There had been only relaxed vetting of those who applied to come to the experimental session.
The idea was to encourage a more open flow of debate.
Comedian Eddie Izzard was on hand to get the riskier questions going, and at one stage Ed Miliband himself even called for a tougher grilling.
In fact Richard says he's a lapsed Labour Party member, but one with a real bee in his bonnet over pensions.
He asked if Labour might copy Dutch legislation preventing governments or private companies from going back on their word over pension promises.
But within a few words of the answer he had heard enough.
"I expected at least an answer like 'let's gather the information, let's make an informed decision on this', not straightaway saying no."
Twitter hit
Ed Miliband perhaps had a sense things might go wrong. When he thanked Mr Lohman for coming all the way from Oxford he added: "I hope I like the question."
After storming out Richard Lohman was mobbed by TV cameras, and became an instant Twitter hit. So was it just a stunt?
"I go back to work tomorrow with no guarantee that the Labour Party is going to look at the way pension provision is legislated for in this country," he said.
"Without this guarantee another Maxwell scandal could happen tomorrow."