Andrew Lindo: Woman's trust damaged by relationship with murderer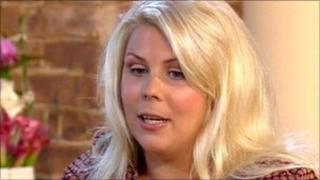 A mother from Barnsley who slept with jailed killer Andrew Lindo hours after he murdered his fiancee has said she will never trust a man again.
Lindo, 29, strangled and stabbed Marie Stewart, 30, and hid her body in a suitcase at their home in Holmfirth, West Yorkshire, on 18 December 2010.
Angela Rylance has had counselling after her relationship with Lindo.
Speaking on ITV's This Morning, she said: "I can never imagine trusting a man again, ever."
Lindo, a former music teacher, was jailed for life earlier this month. He must serve a minimum of 22 years.
Bradford Crown Court heard how he hid Miss Stewart's body in their garage. Her body was not discovered until 13 February.
Hours later, he brought Ms Rylance to the property to spend the night.
Lindo met Ms Rylance in August when she was working in Barnsley. She was told by Lindo that Miss Stewart had left him and their children.
On 18 December 2010, hours after killing Miss Stewart, Lindo brought Ms Rylance and her children to the house in Holmfirth.
Ms Rylance said: "He warned us that he smelt but we just thought it was because he'd been dancing and rehearsing.
"And he warned me that the house smelt as well, one of the children had had an accident that he had to clear up when he got back.
"So once I got to the house I expected the smell, I expected to see the stains on the carpet. So nothing was untoward."
She added: "I have lots of anger towards him for putting me through this, and the children mainly. There was no need for us to be at that house."
'Life a nightmare'
Ms Rylance has had counselling to deal with the murder. The mother-of-two said it had had a lasting effect on her and her children.
"It's made our life a nightmare because everyone thinks I must have known about it and that's really upsetting.
"It's affected my children a lot. I've had to have counselling.
"I have horrible nightmares because I obviously remember the night when I first slept over and that was the night he did it [killed Miss Stewart].
"People at school are still talking, saying 'oh, we didn't realise she had the children in the house'. As if I knew there was a body in the house."