Bravery honour for Sunderland serviceman Sean McGlynn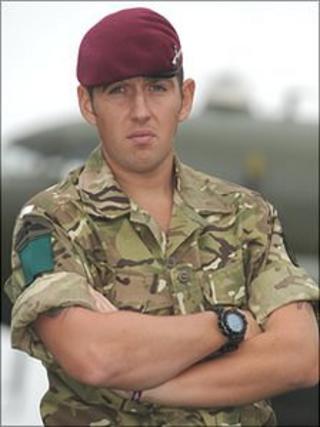 A serviceman from Sunderland is being honoured for outstanding bravery and leadership in Afghanistan.
Sgt Sean McGlynn, is to receive Mention in Despatches, the oldest recognition of gallantry in the Armed Forces, for saving a comrade's life.
The 31-year-old, of 3rd Battalion The Parachute Regiment, was commanding a section which came under attack.
One of his men was wounded and Sgt McGlynn went forward with the company medic and laid down covering fire.
Once the casualty was recovered, along with an Afghanistan police officer, he moved behind the stretcher party, locating and neutralising enemy firing points endangering its route.
Sgt McGlynn's citation stated: "He remained exposed to a determined enemy attack for a protracted period, he held his nerve, fought with immense bravery and led by example.
"His courageous actions and inspirational leadership during a sustained and intense firefight undoubtedly saved the life of his wounded colleague."
'Difficult situations'
Sgt McGlynn, father of a four-month-old son, who was born three weeks after he returned from Afghanistan, said: "It's a huge honour and I'm incredibly proud to receive recognition like this.
"My memories of the incident are just that I wanted to get out there and make sure that my bloke was OK.
"The training took over and I acted automatically without thinking about the dangers, but I knew I had the whole section behind me.
"We'd been in difficult situations before and everyone knew what they had to do."