Pte Mark Vidler from Kent honoured for gallantry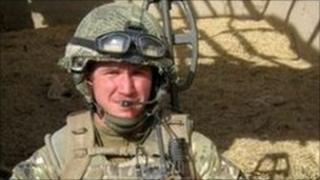 A bomb squad soldier from Kent who found three Improvised Explosive Devices (IED) while on duty in Afghanistan has been honoured.
Pte Mark Vidler, of 2nd Battalion The Parachute Regiment, discovered one device just inches from his feet.
In a second incident, he found a 20kg bomb packed with nuts and bolts while examining the ground by hand.
The 22-year-old also spotted a device hidden in a building that was set to be used by the Afghan National Army.
Pte Vidler is to receive a Mention in Dispatches, a recognition for gallantry within the UK Armed Forces.
Pte Vidler led patrols with a metal detector in the search for IEDs in Nahr-e-Saraj in Helmand province.
'Unflinching professionalism'
He said: "I was always the front man on patrol and my eyes were fixed on the ground immediately ahead of me.
"I had to think like an insurgent and what I would do to target a patrol.
"It was a different way of operating, but my eyes became sharper over time and I never really thought about the dangers of what I was doing after the first few patrols."
His citation notes say his "sharp eye, attention to detail and unflinching professionalism saved lives".
Pte Vidler, whose battalion is based in Colchester, Essex, is currently recovering in the UK after being shot in the leg during an ambush in March.