Yorkshire Forward pays £290,000 staff bonuses ahead of closure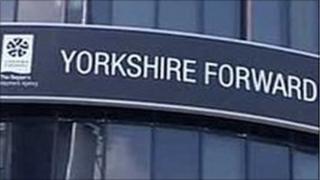 More than £290,000 has been paid to staff who work for a government body which is closing next year.
Bosses at Yorkshire Forward (YF) received bonuses of £35,445, with 260 staff receiving a total of £255,152, a Freedom of Information request showed.
The news comes after 169 staff were made redundant following news, in June last year, that the agency is to close.
YF said bonus payments were made in-line with Civil Service guidelines and it was delivering an "orderly" closure.
The agency, which was set up in 1999 by the Labour government as part of an economic development and regeneration plan in the region, will close in March next year.
Since the government decision to close it, staffing has been reduced, with redundancy payments, totalling £4,571,057, made.
"Our focus continues to be on both on ensuring our remaining staff are supported and that we can continue to deliver an orderly transition and closure of projects and initiatives, until our closure date of March 2012," a YF spokesperson said.
'Investment in Yorkshire'
A former employee, Matt, defended the bonuses after he took redundancy last year.
"Yorkshire Forward are a big organisation overseeing a lot of investment in Yorkshire, creating a lot of jobs and those programs need to be closed down and finished and you need people to do it," he said.
"The bonuses are really there to keep enough people there to make sure that happens, rather than everyone walking away."
However Diana Wallis, a Liberal Democrat MEP for Yorkshire and the Humber, disagreed with the decision to pay the bonuses.
"In the current climate, it doesn't look good," she said. "People have a right to understand why they should be paying such large amounts of money."
YF is among nine regional development agencies in England that will be replaced with Local Enterprise Partnerships, next year.