West Midlands Police cuts too fast, union says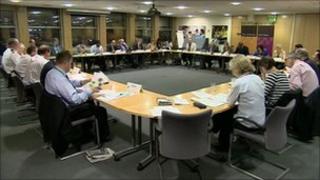 A union which represents civilian staff says changes are being put through too quickly to the way the police operate in the West Midlands.
The region's biggest police force is looking at plans which would see the private sector having a bigger role in policing.
The Chief Constable of West Midlands Police Chris Sims says the plan includes finding a private partner to run some services.
But Unison, which represents civilian police workers, said the changes were happening too quickly.
'Dramatic changes'
Charlie Sarell, regional organiser for Unison, said: "We've seen dramatic cuts since October of last year.
"These are not just cuts but dramatic changes in how policing is organised in the West Midlands and we don't think it's justifiable to put these sorts of changes through at such a fast pace."
The private sector initiative would see West Midlands Police work with Surrey Police.
Both forces, with the backing of the Home Office, have agreed to help fund a procurement process with external organisations to explore what skills a partnership could bring to policing.
Mr Sims said: "Entering into a partnership with a skilled and experienced external organisation may benefit in a number of ways including allowing us to reduce costs and gain advantages from the scale, technology and capital they could bring."
But Mr Sarell said privatisation causes real concerns for the union.
He said: "The danger of privatisation is very much on the agenda.
"We see this proposal as very much breaking up the West Midlands police - the whole idea of the police being a family of different people working together for the common good.
"We now have a situation where some people work for the police but others will be working for a different organisation."
'More effective'
The force has to save £126m over the next four years.
The immediate loss is a reduction of 390 posts made up of 173 police officers and 217 police staff.
It is expected that 88 people will face compulsory redundancies by the end of March 2012.
The Police Federation, which represents rank and file officers up to the grade of inspector, said it viewed the proposals with extreme disquiet.
Andy Gilbert, chairman of the Police Federation, said: "In reality what this means is less of a service to the public. The only thing you get for less is less."
Mr Sims said the changes were in reaction to the budget he was given and that was set by the politicians - not the force.
He said: "[The public] will see that they've still got neighbourhood policing, still got people able to respond to their needs, still got Police Community Support Officers (PCSOs) and a police force able to deal with the serious business of counter terrorism, public order and organised crime.
"It will be a well supported organisation but it will be leaner and more effective."