Parents of Cpl Tom Gaden pay tribute to Wootton Bassett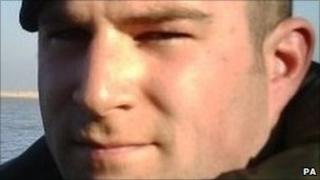 The bereaved parents of a Somerset soldier have taken part in a motorbike ride to Wootton Bassett to thank the town's people for their support.
The body of Cpl Tom Gaden, 24, of 1st Battalion The Rifles, was repatriated through the town in 2009.
His parents Judy and Nic Gaden led a 50-strong procession of motorbikes from Taunton to Wootton Bassett on Saturday.
Mrs Gaden said: "It's an opportunity to just say 'thank you very much and we did appreciate what you did'."
Cpl Gaden, from Taunton, L/Cpl Paul Upton, from Cornwall, and Rifleman Jamie Gunn, from south Wales, died when a bomb struck their Land Rover in Afghanistan on 25 February 2009.
'End of era'
Previously, a 500-strong motorbike ride paid tribute to the Cpl Tom Gaden, who was a keen motorcyclist himself, on the day of his funeral - 16 March 2009 - in Taunton.
The bodies of troops are now being flown into RAF Brize Norton, in Oxfordshire, since repatriations were moved from RAF Lyneham, in Wiltshire
Mrs Gaden said: "The fact that repatriations have now moved to Brize Norton, I wanted to try and do something at the end of an era to capture what had gone before.
"I know that the townspeople did it selflessly, it wasn't encouraged by any media representation, there was no gain in it for them personally.
"And I think that's the most moving thing, the fact that the community are behind you when you've lost somebody as precious as your son serving in a foreign country."
They were due to present the mayor with a quilted wall hanging.
Cpl Gaden's parents have also designed a sew-on badge for motorcyclists to wear as a way of raising funds to the Tom Gaden Trust, set up to support his partner and children.