Kidney transplant twins have success in hospital operation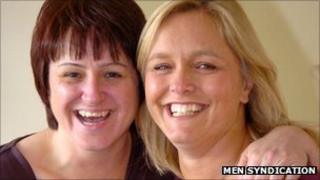 Twin sisters who have undergone kidney transplant surgery in order to save one of their lives are "recovering well" in a Manchester hospital.
Gill Kaczmarczyk and Jen Heaton, 44, who live within 200 yards of each other in Penwortham, Lancashire, were found to be a perfect match by doctors.
Mrs Kaczmarczyk, a mother of two, has a disorder which meant she had just 7% use of her kidneys.
One of Mrs Heaton's kidneys was removed and passed to her sister within hours.
'Tears and hugs'
Surgeons at Manchester Royal Infirmary have told the family that the kidney is now operating at 73% since the operations were carried out on Monday.
Mrs Heaton, a GP, who is 10 minutes younger than her sister, is expected to be discharged by Sunday and her twin has been told she could be home within a few days.
Mrs Kaczmarczyk's husband Steve said: "Gill got to see Jen in theatre just before she was brought out and then she went in herself to receive the good kidney.
"It's been remarkably successful and though there have been a few minor setbacks they are only to be expected after such major surgery.
"Gill already has a more healthy colour about her.
"They had a very emotional reunion in their wheelchairs after the operations.
Next best match
"There were lots of tears and hugs and hand-holding going - and that was just me and Jen's husband David."
Mr Heaton, although not a blood relative of Mrs Kaczmarczyk, had by chance been identified by doctors as the next best donor match and had been prepared to give his kidney if the operation had not been a success.
"Gill and Jen had always been close and grew up sharing everything and answering for each other," said Mr Kaczmarczyk.
"Over the years it seems like we've shared the kids, shared the dog and now there's a kidney to share as well."