Condor Ferries celebrates HGV driver's achievement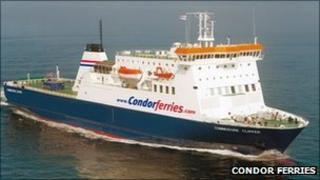 A lorry driver has retired after travelling the equivalent of more than 22 times around the world.
Garry Greatbanks, who delivers bitumen, clocked on for the final time on Friday.
Over the past 26 years, the 64-year-old HGV driver has travelled on Condor Ferries from Portsmouth to Jersey and Guernsey more than 2,000 times.
Mr Greatbanks, from Happisburgh, Norfolk, amassed more than 560,000 miles crossing the English Channel.
During his working life with BP Bitumen, he has spent the equivalent of more than five-and-a-half years on board a Condor ferry.
His achievement was celebrated at a reception given by the ferry company in Jersey.
Justin Amey, Condor's marketing manager, said: "We're sure that he must be one of our most travelled passengers between the UK and the Channel Islands and we hope to continue to welcome him aboard now that he is retiring.
Mr Greatbanks said he enjoyed travelling and his weekly trips to the Channel Islands never seemed like work.
"I'm looking forward to retirement but I do think I'll miss my visits to Jersey and Guernsey," he said.