Chivenor troops return to Devon from Afghanistan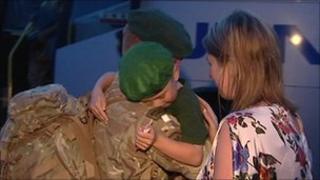 Members of the Commando Logistic Regiment from RMB Chivenor in north Devon have returned home from Afghanistan.
The military personnel - from the Royal Marines, Army and Royal Navy - have completed a six-month tour in Helmand.
After flying in to RAF Brize Norton in Oxfordshire, they were brought back to Chivenor by coach to meet waiting family and friends on Saturday night.
Lt Laura Taylor said her immediate plans included "hitting the surf".
"If it wasn't dark, I'd probably be going in now," the Royal Navy lieutenant told BBC News.
"Obviously there's no water in Afghan, so you miss the sea."
Supply distribution
Caroline Sutherland, who was waiting to welcome back her husband Capt Ian Sutherland, said his return had been "a long time coming".
"It's really, really fantastic... and it's a relief because they're all back safely."
Capt Sutherland said it had been a busy six months and his plans now included "doing very little".
During the tour of duty the members of Commando Logistics distributed supplies from Camp Bastion to other battle groups.
The Commando Logistics Regiment is part of Task Force Helmand from the South West which also includes Plymouth-based 42 Commando Royal Marines and 29 Commando Regiment Royal Artillery, TA soldiers from Exeter-based 6 Rifles and Naval Air Squadrons from Culdrose in Cornwall.
Col Peter Taylor, commanding officer of the close support logistic regiment, said he was "absolutely delighted" with how everybody had performed in Afghanistan.
It was his third operational tour in five years.
"I wish I could tell you they get easier, but the reality is they seem to be getting harder... so it's lovely to be back with my wife and family."
The returning troops will now be given some well-earned leave.