Nick Herbert eyes web conferencing for summary justice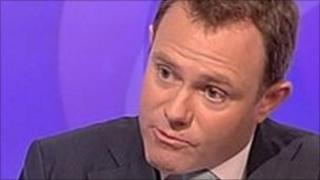 After the riots, when magistrates were sitting through the night, it got some people asking 'why can't that happen all the time?'
Rather than weeks of waiting between arrest, charge and court appearance, looters who woke up blinking in the cells the next morning seemed much more ready to see the error of their ways.
So the policing and justice minister, and Arundel MP, Nick Herbert has a plan for summary justice.
We'll hear more about it during the conference, but he gave us a preview on the Politics Show.
"We need to re-think the role of magistrates to get swifter justice.
"This system of summary justice needs to be the norm in our system. To get people before the courts in a matter of hours or days rather than the months that we currently see."
The Conservatives were the ones who shut down many local magistrates courts, of course, but now Herbert sees an opportunity - helped by the progress of new technology.
'Confront the victims'
Using video conferencing he has a vision of a policeman at his desk and a criminal in the cell appearing on a magistrate's screen.
The magistrate might be sitting in a local community centre rather than a court in a remote city, and Nick Herbert says restorative justice would be part of the mix.
"Offenders would confront the victims, make amends - a much more effective form of justice than we've seen so far."
I asked: was this just a way of cutting policing costs? But he insists that many in the police federation want to take this sort of control - able to dispense their own summary justice without the need to resort to a magistrate at all.
A lot of people were away from their desks when the riots kicked off.
Of course the politicians came dashing back from holiday when they realised the possible embarrassment, and then slunk back to the beach as soon as they thought the coast was clear.
But amongst the ranks of academics and think tanks there were also many watching the drama unfold second-hand. They are now working out what that mad summer week might mean for their own plans to change the world.
A serious illness meant Mr Herbert wasn't able to be at his desk.
But now he's determined to use the problems of the summer to drive his new agenda.