Huntley attack: Safety 'not guaranteed in prison'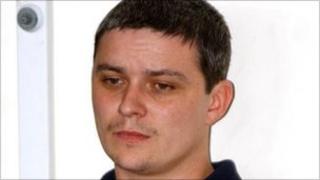 No prisoner or officer is entirely safe in a jail, the Prison Officers' Association (POA) has said.
The claim comes after a robber serving a life sentence admitted the manslaughter of a convicted paedophile and the attempted murder of Soham killer Ian Huntley.
Damien Fowkes strangled child sex killer Colin Hatch at Full Sutton jail, near York, and slashed Huntley's throat at Frankland prison, Durham.
An official inquiry into Hatch's death was suspended until Fowkes's case finished.
'Difficult situation'
Fowkes, 35, formerly of Northampton, is serving a minimum of 12 years after being jailed by Northampton Crown Court in 2002 for carrying out three robberies over four days.
He was transferred to the high security Full Sutton prison, near York, in 2010, where he strangled Hatch on 22 February this year.
Hatch, 38, of north London, was serving a life sentence for the murder of seven-year-old Sean Williams in Finchley in 1994, an offence committed while he was on parole for a previous child sex attack.
The attack on Huntley took place in March 2010, when Fowkes slashed the Soham murderer with a makeshift knife at Frankland prison in Durham, a Category A high security jail.
Tom Robson, national vice chairman of the POA, said there was "never a 100% guarantee" of safety in jails - for either prisoners or officers.
"It's a difficult situation and a hell of a conundrum, but the Prison Service is very successful in preserving people's integrity," he said.
"We don't take our job lightly and our job is to protect these people. They all have families and you don't just look at the person."
Mr Robson said paedophiles were particularly at risk, even in top security prisons such as Frankland and Full Sutton.
"They are in a special unit, they associate together and are kept apart from the general population. But some are not willing to be segregated," he said.
"You can't chain them to a wall, they have to associate. That's the only life they have."
Huntley is serving a life sentence for the murder of 10-year-olds Holly Wells and Jessica Chapman in 2002.
In September 2005, Huntley was attacked by a fellow inmate at Wakefield prison who threw boiling water over him.
He had been in the health care wing of the West Yorkshire jail at the time of the attack.
It is also believed that Huntley has tried to commit suicide three times since his conviction in December 2003.
The Ministry of Justice said the Prisons and Probation Ombudsman held an inquiry into every death in custody.
A ministry spokesman said the inquiry into the death of Colin Hatch was "still ongoing" but had been suspended until the outcome of Fowkes's case was known.