Dale Farm: Pickles says planning must be fair to all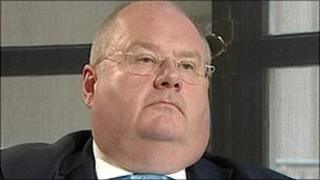 Eric Pickles has launched a broadside at the Dale Farm travellers, telling them the planning system must be fair to all.
"We should support those who play by the rules, treating law-abiding people equally and fairly," he said, while announcing that councils are to get stronger enforcement powers to prevent unauthorised sites, like Dale Farm, from being established in the first place.
And the government is prepared to put its money on the table too - £60m will be given to councils who improve provision and build new pitches.
Meanwhile, the judge at the High Court ruled that Basildon Council can remove caravans from the majority (49 out of 54) of plots at Dale Farm.
At present, walls, fences and gates will be allowed to remain on site and the Council has been ordered to pay a third of the travellers' legal costs in relation to the case.
The Secretary of State and MP for Brentwood made his feelings clear.
"The Dale Farm saga has now spent 10 years before the courts. Justice delayed is justice denied.
"It's time that planning law was enforced. It's time to uphold the British rule of law."