Rural oil bulk-buying clubs help 'fuel poor'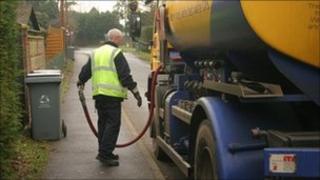 Six years ago in a Berkshire pub local resident Lanie Allen was discussing how expensive heating oil was for anyone buying just a few hundred litres.
This, she felt, was unfair - especially on the elderly and people living alone - so she started an oil club.
It is now one of many springing up in rural areas, where thousands of homes have no mains gas.
Her club in Hampstead Marshall now has more than 400 members and she bulk buys oil twice a month at a cut price.
Instead of tankers making individual trips to the village each time a customer orders fuel, suppliers can make all their deliveries in one day, saving time and diesel.
'Causing hardship'
According to the Office of Fair Trading, about 1.5m homes across the UK, mostly in rural areas, are dependent on heating oil.
The price fluctuates daily - customers have reported paying 50p to £1 per litre, with the highest prices in winter.
Residents ordering individually must buy a minimum of 500 litres, which is charged at a higher rate, and companies are increasingly asking for payment up front.
Mrs Allen said: "This is so unfair to the rural community. More and more companies are charging in advance and that's causing hardship for some people.
"You don't get that with other utilities - they invoice you after the event and you know how much it will cost, but oil prices keep changing.
"Our bills haven't gone down - the price of oil has gone up and up. It was only a few years ago we were paying 20p a litre."
The Citizens Advice service is now encouraging communities to register their oil schemes on its website to help others save money.
The charity said four million households in England were considered "fuel poor", meaning more than 10% of their income was spent on heating.
It said almost 30% of households without mains gas were living in fuel poverty.
Citizens Advice chief executive Gillian Guy said: "We are concerned at the number of people we see who are anxious about staying warm through the freezing winter months, as many can't afford the high costs of heating bills."
In Ellisfield, Hampshire, Ted Dowson helps run a small syndicate with 48 members.
The club has been running for four years and, although Mr Dowson gets nothing in return for his time, he says there is an increased sense of community spirit.
He said: "Everything you do like that is good for the community - there are different people I know now that I would never have met before."
More recently, community organisations have started their own schemes - Oxfordshire Rural Community Council began bulk buying a year ago and has been so successful, it is helping other rural community councils do the same.
Chief executive Linda Watson said: "There are already quite a number of communities that have local syndicates in place.
"What we have done is use that model to scale it up to maximise the buying power in communities."