Europe is the real debate at Conservative conference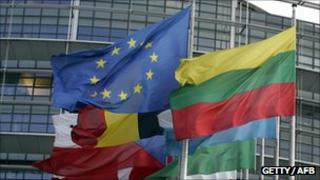 "The only way is to renegotiate a treaty governing our relationship with Europe" is a sentiment expressed by any number of our Conservative MPs.
Some, like Andrea Leadsom, MP for South Northamptonshire, are even working on a "Fresh Start Project" which aims to set out what a new treaty would look like.
She believes the euro zone crisis, which deepens daily, makes the time ripe for change.
"Our citizens want more control over their own lives," she says.
"It's not just policing and employment law but we want the UK to take more decisions and Brussels fewer."
Deregulation is key
Bernard Jenkin, MP for North Essex, agrees: "What we need is to deregulate. It is the key to unlocking economic growth.
"At the end of the day that brings Europe into the picture because it's responsible for so much of the regulation that's impeding us."
"The only way to deal with those issues is to renegotiate our relationship with Europe."
In all the bars and coffee shops, on the fringe and even on the conference floor, Europe is on everyone's lips.
It's a cacophony of muttering and musings about the best way forward but the call for change is universal.