Man named after body found in Nuneaton pool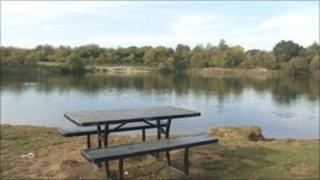 A man who drowned while swimming in a pool at a Warwickshire nature reserve has been named by police.
The body of Jake Butler, 19, who was originally from Birmingham, was recovered in the early hours of Saturday at Ensor's Pool in Nuneaton.
Emergency crews were called to the former clay pit after Mr Butler was reported missing on Friday afternoon.
Police were not treating the death as suspicious and were preparing a report for the coroner.
Emergency crews, including an underwater search team, used thermal imaging equipment to try to locate Mr Butler.
Commenting on the death, a spokesman for Warwickshire Fire and Rescue Service said: "In light of this tragic incident, I cannot stress enough the dangers that exist in open-water swimming.
"The water may look calm on the surface, but there may still be strong undercurrents that could pull even the strongest of swimmers under.
"The water may also feel relatively warm on the surface, but just a few feet below can be icy cold."