Plans for new council gypsy and traveller site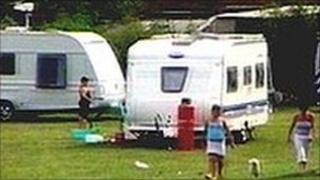 A council is putting together a planning application for a new Gypsy and traveller site in Crewe.
Cheshire East Council's cabinet carried out an assessment of various pieces of council owned land to choose the "most appropriate" site.
A plot off Parkers Road, in the Coppenhall area of Crewe, has been chosen because it is near to schools and shops and has "good road access".
If approved the site would house 12 pitches and an amenity block.
The block would contain washrooms, a kitchen, a dayroom and a laundry.
'Proactive approach'
A council spokesman said Cheshire East has an established residential population of Gypsies and travellers who live mainly along the historical traveller routes which pass through the area.
There are currently 15 permanent sites in Cheshire East, of which one is owned by the council.
The planning application is expected to be submitted later in the autumn ahead of a public consultation period.
Councillor Rachel Bailey, Cabinet member with responsibility for safer and stronger communities, said: "A proactive approach to managing the housing needs of Gypsies and travellers is the only way to tackle the issue.
"Permanent and transit sites are proven to reduce the number of unauthorised developments and encampments - two issues which concern residents and are costly to the council and local businesses.
"We hope that people will fully engage with us during the consultation process of this planning application and let us know their views."