Luke Sparks: Police arrest escaped patient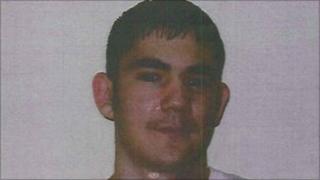 A secure unit patient who absconded from a hospital in Suffolk has been arrested by police in Bristol.
Luke Sparks, 21, forced his way out of St John's House in Palgrave early on Sunday, along with two other patients who were later found.
Mr Sparks was arrested in the early hours on suspicion of escaping from custody, assault and theft.
He was being held at a police station in Bristol before being transferred back to Suffolk.
The other men, Ross Beeby and Jason Williams, were found by police on the A140 in Norfolk soon after the escape.
A 22-year-old woman from Suffolk was also arrested by Avon and Somerset Police on suspicion of assisting prisoners to escape.
A member of staff suffered a minor head injury as the men escaped.
Members of the public had been advised not to approach Sparks, who was detained under the Mental Health Act following an assault on a taxi driver in Taunton in 2008.