Rubbish politics: the debate hots up on waste disposal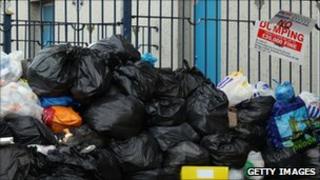 Suddenly, rubbish is one of the hottest topics in town.
The Communities Secretary Eric Pickles told us so during the Conservative party conference in Manchester, where he condemned "Labour's rubbish policies" which he said had led to fortnightly bin collections in many areas.
Mr Pickles was trumpeting his decision to set up a fund to support councils providing weekly rubbish collections, "helping families to go green and provide a comprehensive service every week".
But new figures suggest collecting the rubbish is only the beginning: the real challenge comes once councils start disposing of it.
Clean record?
The Portrait of the West Midlands published by the Office for National Statistics shows councils burn more rubbish in incinerators here than anywhere else in the country.
At the same time, they send the least to landfill.
The West Midlands has five incinerators producing electricity.
But proposals for a sixth were rejected last month and plans for two others face fierce opposition in public inquiries at Hartlebury in Worcestershire and Shrewsbury in Shropshire.
So, do we have a clean record on refuse disposal or a dirty one?
That's what I will be asking on the Politics Show West Midlands this week where I will be joined by three people with widely varying perspectives on all this:
Darren Cooper, the Labour Leader of Sandwell Council, who send waste to other local authorities to be burnt; Gavin Williamson, the Conservative MP for South Staffordshire, who fought successfully against plans for a new incinerator; and Chris Crean from the environmental campaign group Friends of the Earth.
And I hope you will join us too, from 12.10 on BBC One on Sunday 9 October 2011.