The political club that no one wants to belong to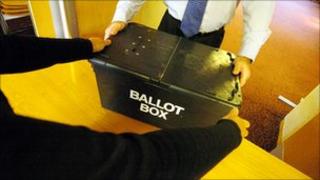 The Forty Club is the club that nobody wants to be in.
The club is made up of the 40 most marginal Conservative MPs in the country - the ones who are most likely to lose their seats at the next election.
And five members of this exclusive club come from the East:
Peter Aldous (Waveney, majority 769), Louise Mensch (Corby, majority 1,895), Richard Fuller (Bedford, majority 1,353), Michael Ellis (Northampton North, majority 1,936) and Ben Gummer (Ipswich, majority 2,079).
They hope that by working together, sharing best campaigning practice and lobbying ministers they'll ensure that they hold onto their seats at the next election.
"If you're sitting on a majority of 20,000 you can be a bit frivolous over the issues you concentrate on," says Peter Aldous.
"We have to cut straight to the chase and concentrate on the policies that really matter.
"For us that means growth, stimulating the economy and improving infrastructure."
Self help group
Ben Gummer adds his voice: "We're sensitive to the swing voters in a way our colleagues aren't.
"So as a group we bend the ears of ministers, telling them about the policies we think the country needs."
One of the founders, Amber Rudd, the MP for Hastings and Rye (majority 1,993) outlines the group's aims in a pamphlet launched at the Conservative conference.
"We know that in a major swing away from the Conservatives, it is likely we would all lose our seats, but the personal vote has a significant role to play," she writes.
"We are a self help group. We exchange information, ideas and literature.
"We can learn from each other about which forms of lobbying work best."
Discreet meetings
The group regularly meets with ministers but Mr Gummer refuses to say who or what is discussed.
"We've got credibility in that our discussions are discreet.
"If a minister meets with the 1922 committee it's all over the media within minutes. That won't happen with us."
So even though the next election is probably three and a half years away, some Conservatives are already thinking about their survival, determined that their term of office will last longer than just the one parliament.