Disruption on A21 in Kent and Sussex until December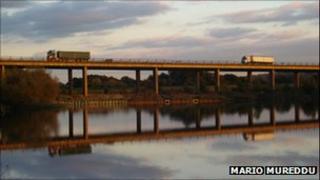 Improvements to road markings and resurfacing are set to cause disruption on the A21 in Kent and East Sussex until December.
The work will be carried out overnight and will involve temporary traffic lights and reduced speed limits on a number of sections of the road.
The Highways Agency said the work would be carried out in phases between 20:00 and 06:00 Monday to Friday.
One carriageway will be closed at a time, with lane closures in place.
A21 Roadworks
The road marking work will start on Monday and will be carried out between North Farm roundabout and the Tonbridge bypass, between Forstal Farm roundabout and Kippings Cross roundabout and between the Hastings boundary and the Scotney Castle roundabout near Lamberhurst.
The resurfacing work is due to start on 17 October and will be carried out between Cuckoo Lane and Perch Lane on the A21 Lamberhurst Quarter and between Clay Hill Road and Kippings Cross roundabout.
At junctions there will be three or four way temporary traffic lights in operation to allow access to and from side roads, said the Highways Agency.
Peter Scott from the agency said: "It [the work] has been carefully planned to minimise disruption and will be carried out overnight, when traffic flows are lowest."